Harpers Ferry Insurrection of 1859
This exhibit features objects, photographs, and documents related to John Brown and his provisional army and their attempt to capture the federal armory and arsenal in Harpers Ferry to incite a rebellion against slavery. The exhibit includes biographies and sketches of the five Black soldiers who were part of the insurrection.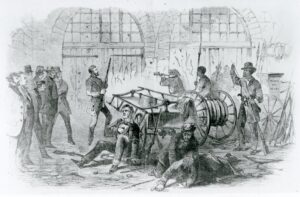 Harpers Ferry Insurrection, 1859
100th Anniversary of Coal Miners Trials in Charles Town
This exhibit provides a brief look into the 1922 Miners Trials at the Jefferson County Courthouse in Charles Town. These trials were the culmination of the nearly decade-long Miners Wars in the southern West Virginia coal fields where miners struggled to unionize to improve working and living conditions. The exhibit shows photographs, newspaper articles, and artifacts from the museum's collection.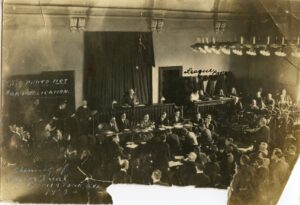 Miners Trials at Jefferson County Courthouse, 1922
Disasters in Jefferson County
A photo display in the museum's entry hall features photographs from the museum's collection showing natural and human-caused disasters, including fires, floods, vehicle crashes, and storms, from the late 19th to the late 20th century. The exhibit can also be viewed online here.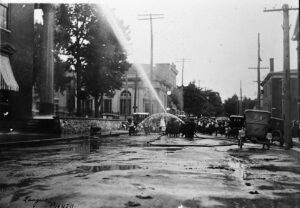 Demonstration of fire fighting equipment on North George Street, 1910