Colonial and Early Antebellum Relics
Tuesday, September 10 – Saturday, December 14
The exhibit features colonial and early antebellum relics found in Jefferson County. Artifacts include rare coins, buttons, and buckles dating from ca. 1730s to the early 1800s. Relic hunter Jim Glymph found the items in various locations around the county and has loaned them to the museum for the remainder of the year.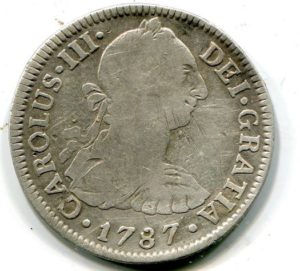 Spanish reale, 1787
A Collection of Vintage Toys Owned by Shepherdstown Native
Tuesday, August 13 – Saturday, December 14
The exhibit features vintage toys owned by Jane Knott Snyder Miller, who was born and raised near Shepherdstown. Items include wooden doll furniture, porcelain dolls, doll clothing, and a teddy bear. Mrs. Snyder's son, Lige B. (Ben) Miller, Jr. generously donated the items to the museum.